The North Carolina Wage and Hour Act protects you from more than just paycheck violations. This Act ensures an employee is paid all "wages" owed from an employer. If you are owed wages, bonuses, or commissions, contact Maginnis Law, PLLC for a free consultation regarding your rights. North Carolina unpaid bonus attorney Karl S. Gwaltney can be reached at 919.526.0450 or info@maginnislaw.com.
Under North Carolina law, wages include compensation for labor or services rendered by an employee and the reasonable cost of furnishing you with board, lodging or other facilities. Wages also include sick pay, vacation pay, severance pay, commissions, bonuses, and other amounts promised when the employer has a policy or a practice of making such payments. An unpaid bonus attorney can assist with recovering each of those types of wages. Each of those wages can be recovered under the North Carolina Wage and Hour Act.
If you were owed vacation time, bonuses, or commissions, you could recover double damages and attorneys' fees from the employer. For example, a bank employee owed $10,000 in earned vacation pay may potentially recover up to $20,000, plus attorneys' fees. Maginnis Law generally takes unpaid wage claims on a contingency basis so an employee is not responsible for attorneys' fees unless the employee successfully recovers from the employer. We recently resolved a case in which our client was owed approximately $30,000.00 in unpaid bonuses for $65,000.00.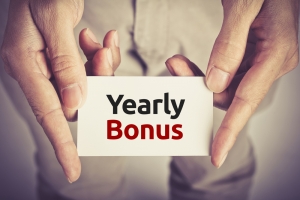 If an employer furnishes lodging, board, or other facilities, the "reasonable cost" of providing such services are wages. North Carolina law also provides that wages include meals furnished at company restaurants or by hospitals, hotels or restaurants to their employees; meals, dormitory rooms and tuition furnished by a college to its student employees; housing furnished for dwelling purposes; general merchandise furnished at company stores and commissaries (including articles of food, clothing and household effects); fuel furnished for the noncommercial personal use of the employee; transportation furnished employees between their homes and work where the travel time does not constitute compensable hours worked and such transportation is not necessary to the employment.
Wages can include travel expenses, holiday pay, birthday pay, jury duty pay, shift premium pay, prizes, moving expenses, educational expenses, or telephone expenses if the employer has a policy to provide those benefits.
Wages do not include items for the benefit of the employer such as tools and equipment required by the employer, uniforms when the business requires the employee to wear a unique or customized uniform, and transportation charges where it is an incident of and necessary to the employment.
Employers are required to keep accurate records of all wages earned. Further, North Carolina employers must notify employees "orally or in writing at the time of hiring, of the promised wages and the day and place for payment." Employers must notify their employees of the specific salary or hourly wage that will be earned as well and any other benefits that will be received. Further, employers must provide or maintain written notice in a conspicuous place accessible to all employees exactly how and when wages are earned. Bonuses, vacation pay, commissions, sick pay, or other forms of wage calculation must be written and address how and when wages are earned so employee's know the specific amount of bonuses, sick pay, vacation pay, or commissions to which are entitled.
Notice must be given at least 24 hours prior to the reduction of wages. Once an employee has earned wages or benefits, the employer cannot rescind such wages or benefits. However, for commissions, bonuses, or vacation pay, an employer can provide for the forfeiture of such wages if the employee has been notified of the conditions for loss or forfeiture prior to the wages being earned. Employers can only make changes to benefits accruing after written notice is given to employees.
The North Carolina Administrative Code states that wages calculated under a bonus, commission, vacation or other policy which does not establish a specific forfeiture policy cannot be reduced or eliminated by a change in that policy or procedure. For example, if an employer has a written policy stating that "sales agents are to earn 10% commissions on all sales made" and then changes that policy to state: "sales agents earn 5% commissions on all sales made," the sales agent is entitled to the 10% commission earned under the first policy until at least 24 hours after written notice is provided. From that point forward, the sales agent is only entitled to the commission under the second policy going forward.
This requirement is also important with bonus payments or vacation payments. Oftentimes employees are working pursuant to a vacation or bonus plan that does not have a forfeiture provision. This may mean that the employee is owed the amount earned, even upon termination. An unpaid bonus attorney can assist with vacation claims as well.
An unpaid bonus attorney can assist employees who are having commissions, bonuses, vacation pay, or other wages wrongfully withheld. If you are such an employee, contact unpaid bonus  attorney Karl S. Gwaltney at at 919.526.0450 or at info@maginnislaw.com. The attorneys at Maginnis Law assist North Carolina employees with obtaining amounts of unpaid wages, commissions, bonuses, and vacation pay.  You can also subscribe to our mailing list to learn about the rights you have under consumer protection law against large corporations.