Automobile collisions, falls, and other accidents caused by the negligence of third parties can result in broken bones and other serious injuries.  With many types of injuries, you might be able to recover in a few weeks and get back to work.  More serious injuries, such as with a fractured wrist, can be more disruptive and cause significant missed time from work.  If you have suffered a broken wrist due to another person's negligent actions, contact the Raleigh personal injury attorneys of Maginnis Law at 919.480.8526.
For example, our firm recently resolved a case on behalf of a Johnston County boy who was injured in a bicycle accident and broke both of his wrists. We resolved the case for $50,000.00, which was the limits of all available insurance coverage to settle the case.
The human wrist is made up of two major bones, the ulna and radius.  These are the bones that extend from your elbow toward your hand.  Either can be broken as a result of a fall, automobile accident, or any other number of incidents.  Symptoms of a broken wrist include swelling, tenderness, deformity, numbness or stiffness, and severe pain.  The injury can be confirmed using X-Rays and/or CT scans.  Surgery may be necessary to fix the two fractured sections together.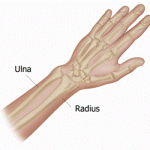 If you suffered a fractured ulna or radius bone because of someone else's negligence, you have the right to recover fair compensation.  In North Carolina, you are typically able to seek compensation for medical and pharmaceutical expenses, past and future lost wages, physical and mental pain and suffering, and permanent impairment or disfigurement.  If the accident was due to gross negligence, such as drunk driving, you may also be entitled to pursue punitive damages.  These damages serve to punish the at-fault party for his or her actions.
An important consideration with broken, crushed and fractured wrist cases is that these injuries can make it difficult to get back to work and take care of your family.  In these situations, it is important that you be aware of all available insurance coverage, as your damages can become significant.  Many folks don't realize when they are involved in an automobile accident that there may be multiple coverages that provide protection.  This could include the automobile liability policies of family members of the at-fault driver or even your own underinsured or uninsured motorist coverage.  This is most important in auto accident cases where the at-fault party's primary insurance coverage is the North Carolina minimum of $30,000.00.
Maginnis Law offers free consultations to all potential personal injury clients and will travel to meet with you.  We do not send "field representatives" like many other large law firms that regularly advertise.  We also don't use paralegals to communicate with our clients.  You'll meet with the same attorney or attorneys that will be representing you in your case.  Additionally, all personal injury cases are handled on a contingency basis, meaning that you pay no attorneys' fees unless we obtain a verdict or settlement on your behalf.
The North Carolina personal injury attorneys of Maginnis Law represent seriously injured clients throughout the state, including Raleigh, Durham, Cary, Greensboro, Fayetteville, Greenville, and Chapel Hill.  If you have suffered a fractured wrist in a car accident or other incident, call attorney Maginnis Law at 919.480.8526 or send us a confidential email regarding the facts of your case using our contact page.